Track your success.
The Kanban method provides the ideal way to achieve your goals by following these five Kanban properties: visualize the workflow, limit the Work-In-Progress (WIP), make the process explicit, use models to recognize improvement opportunities, and measure and manage the flow. Our metrics area is an absolute playground for the most advanced Kanban users to truly slice and dice their data, in order to help their organizations make better decisions based on actual data.
As shown in the screenshot on the right, you can access the most important Kanban metrics from each board by clicking the metrics icon. This provides a quick glance at your metrics for the last 4 weeks, but don't just stop here, click any of these metrics to access the full metrics area with much more reports and ways to analyze your data.
You can learn more about the reports available in Kanban Zone in the list below. Unlike many other tools that require additional plugins to access advanced analytics, you can rely on accurate data without all the complications of maintaining any integrations. Our metrics can help you quickly visualize your work and identify opportunities for improvement.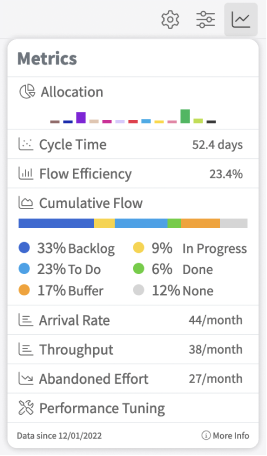 See it in action
Enjoy this short video that will illustrate our metrics and take a deep dive into our Performance Tuning report.